DMU: – Debre Markos University Institute of Education and Behavioral Sciences is hosting the 1st Annual National Research Conference under the theme 'Research Informed Quality Education for Character and Personality Development' in the presence of invited honorary guests, scholars, researchers and Debre Markos University internal community colorfully in Queen Sheba from April 3-4, 2021.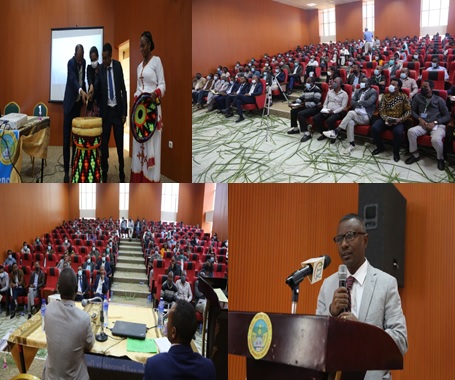 Partial view of the research conference on the opening stage
Debre Markos University Institute of Education and Behavioral Science Dean, Doctor Tesfaye Abebe warmly welcoming the participants from the remote to the near says that Research informed quality education is crucial for Ethiopia towards catching up with the developed world.
The notion of quality becomes more perplexing when applied to education as Elton 1992, hence Educatiion is an ongoing process of transformation of the participants, he added.
Research quality education for character and personality development will be fundamentally dependent on the quality of researches, Tesfaye underlined.  As a result, improving the quality of education would require practical research systems in which the principles of scientific development and modernization could be learned in ways that learners respect socio-cultural contexts, he underlined.
Doctor Demeke Binalf in his program introduction of the conference reminding that the institute has established independently since 2015/16 comprising 4 departments the institute has conducted about 29 researches. The conference lays interdisciplinary plat forms and its objectives are to disseminate research outputs, to discuss on research findings, to create collaborative linkage with stake holders, to discuss and put the way forward, he explained.
Debre Markos University Research and Technology Transfer Directorate Director, Doctor Melkamu Bezabih opening the conference stage says that developing responsible, knowledgeable, attitudinal graduates that will help improve the social, economical, political livelihood of the society cannot be left for tomorrow since the country is at a serious risk. 
Professor Alemayehu Bishaw, keynote speaker of the stage in delivering his messages he underlines that issue if quality has become more than politics unless urgent intervention is made to curve the problems of quality education. Ethiopian curriculum failed to develop literacy and numeracy skills, properly address national unity, develop reasoning and critical thinking, develop cognitive skills,  and lack to develop global outlook.
In order to assure quality education the curriculum should provide opportunities for learning to know, learning to live together, learning to do, learning to be since the factors are absence of clear philosophy of education, flue of change in the education innovation, international bilateral and multi lateral agreements and curriculum relevance, Professor remarked.
In addition in order to ensure quality education the curriculum should focus on holistic development, value for indigenous knowledge, practical based education, promote real world and experimental learning, increase power of reasoning, develop diversity in unity and social responsibility, professor remarked.
Finally, it is noted that a total of research papers 8 from the external and 3 from the internal community will be presented and discussions will be held in respect to the papers. There will also be the way forward session.