DMU:- Debre Markos University Agriculture and Natural Resource and Natural  and Computational Science Colleges collaboratively host the first and second annual research conference under the themes "Enhancing Agricultural productivity and Environmental Sustainability for food Security and Resilient Green Economy"  and "Advancing Scientific Research  and Innovation for Societal Development" respectively colorfully in Haddis Almayehu venue from May18-19, 2021 in the presence of guest of honors, higher government and University officials, researchers and participants.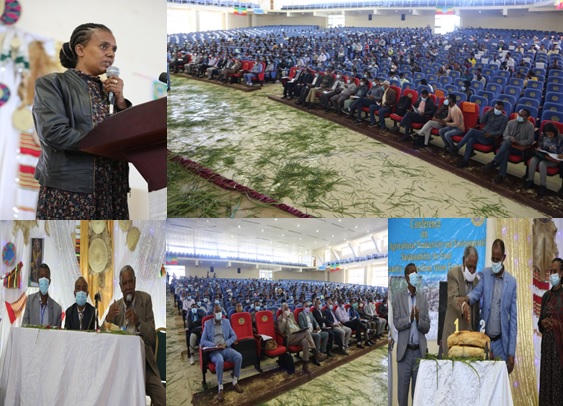 Partial view of the opening ceremony of the conference
Academician, researcher and scientist Emirates Professor Shibru Tedla, Keynotte speaker of the research conference says that scholars have to play their roles in realizing sustainable development through interdisciplinary research outputs and shape the youth through scientific education derived from scientific research.
Professor has also explained about the whatness of science, scientific knowledge and applying science for sustainable development. Thus, scholars shall concentrate on their environs so as to bring solutions to the existing problems.
It is also noted that Debre Markos University community will have lecture presentations and discussion rooms with the Professor in the coming two days.