DMU: – Debre Markos University Institute OF Technology hosts the 2nd Annual National Research Conference with the theme "Advancement of Science and Technology for Sustainable Development" colorfully in Haddis Alemayehu Venue from 10-11 May 2021.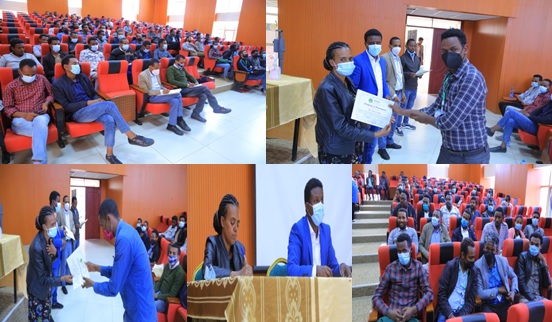 Partial view of the two days research conference
Debre Markos University President, Doctor Tafere Melaku feels honoured to welcome guests and participants for the 2nd Annual National Research Conference of Debre Markos University Institute of Technology, and gives his special thanks to the two keynote speakers and other guest researchers. He also appreciates Dr. Dereje Engida, President of Addis Ababa Science and Technology University for his dedication and commitment with his busy schedule that he joined the conference to deliver a keynote speech.
It is really a privilege for him and for his young engineers to learn more from Dr. Dereje and Dr. Bayou because they do have rich and tested experience in research and leadership. Thus, Doctor Tafere thanks them on behalf of Debre Markos University Community.
Tafere also remarked that there are many questions to which he did not yet get answers. These questions may not be that much relevant but they are always hammering him. Perhaps, some of the participants may also be hammered by these questions. Therefore, he raises these nonsense questions.
He indicates that the first question is as a country, we are always facing so many challenges in the construction sector. However, we still fail in challenging these challenges even if we have many technology institutes and engineers as compared to many years in the past. Therefore, Why?  The second is do you think that our buildings are cost effective? Which types of buildings do we really need to have? The third one is do you think that our hydraulic graduates are better than farmers? If not, Why? Moreover, how can we become real sons and daughters of our ancestors? Hence, how can we at least improve the quality which is the perplexing problem in the construction sector? Are the questions that he had not got answers for.
Debre Markos University Institute of Technology Scientific Director, Doctor Engineer Abebe Tesfaw warmly welcoming honorary guests, dear researchers and distinguished participants says that science and technology are important forces behind both positive and negative development trends. The widening economic gaps that exist between nations are attributed to corresponding gaps in science and technology, he added.
In addition, the fundamental problems hindering the reduction of poverty and achievement of other development goals in Ethiopia are lack of human capital and adequate infrastructure for basic services, Engineer Abebe underlined. The development of infrastructures should be viewed as critical opportunity for integrating technological considerations into development goals, he remarked.
Dr. Dereje Engida, President of Addis Ababa Science and Technology University and Dr. Bayou Chane from Addis Ababa University in their keynote speech point out that if researchers can solve one among the problems of sustainable development goals, they will solve the problem of the world. They added that it is time to work together with professionalism, motivation and experience since this generations are the people to address the problems of Sustainable Development Goals.
Dr. Bayou Chane also says that research outputs must be measured in terms of their outcomes instead of their personal advantages. It is a must to have a paradigm shift in a time frame out of the usual way, he underlined.
Avoiding brain-drain, using advance technology, developing good capacity, conducting demand driven researches, engaging stakeholders, making collaboration and partnership, conducting researches, applying technology, working in groups, developing communication skills, use win-win competition and design structurally conversations are among the solutions to achieve sustainable development, Dr. Bayou suggested.
It is noted that about 20 research papers were presented on the research conference and discussions were held.
Finally, Debre Markos University Research and Community Service Vice President, Assistance Professor Genet Degu, and Debre Markos University Technology Institute Scientific Director chair the way forward discussion session. Participants suggested that the conference was so good and it was so nice national conference since researchers came from parts of Ethiopia. At the end, collaborators and research presenters were certified.